Hey folks, a short Thursday Theory so I can break down some Foucault stuff.
Over at US Food Policy, we learned the following: "
The 9th Circuit Court of Appeals has ruled that the planting of GE alfalfa can cause potentially irreversible harm to organic and conventional crops. Monsanto's petition to rehear was denied in full
." Take that multinational food companies! Oh, yeah, I think I'm going to go see Food, Inc. tomorrow.
Um, I'm pretty sure that if you want to make English the official language of the US, you should be bothered to make sure your sign is spelled correctly.
Image via
ThinkProgress
and
enGender
.
Monica Roberts over at TransGriot talks about how
gay marriage negatively affects transgender marriages
.
Also via TransGriot, a
Trans-Inclusive ENDA was introduced
.
Word of the Week, via Word Journal
Abligurition
: what I've been performing excessively.
Weird and Cute Pictures

Critical Mass, 1885, via Married to the Sea
ENDCAT, Cute Overload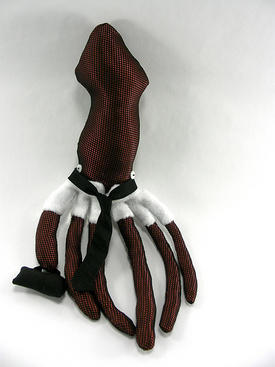 An office worker squid, via Boing Boing